The Quarantine. Taiwan has been on the top of its game combatting COVID-19, marking 200 days of no domestically transmitted cases back in October.

Thanks to the lack of need to shut down its economy, the annual GDP will grow by over 1.8 percent this year. Also, the average annual salary increased by NT$5,000 (3,861 CZ). All of this indicates that the purchasing power of Taiwanese customers has been further strengthening. Wonderful news for all businesses considering expanding to the Taiwanese market.
Our daily lives have gone digital this year, but certain business concepts are hard to replace with Zoom meetings. In-person business meetings are irreplaceable ingredients for building steady and deep-trusted connections, 關係 "guānxi." These are only a few reasons why expanding to the Taiwanese market might be on your Bucket list for 2021, and a business trip to Taipei isn't a bad idea.
If you are planning one, here is all you need to know about the current COVID-19 quarantine measures in Taiwan. We offer personal insights and first-hand experience of a colleague of ours. Read on and learn about:
Staying Negative
Landing and Check Points
Getting Your Drive
Quarantining in Taiwan
Daily Check-Ups
All About the Food
Room Keeping
Quarantine Rules in Taiwan are No Joke

Cancelling the Second Wave Before It Hits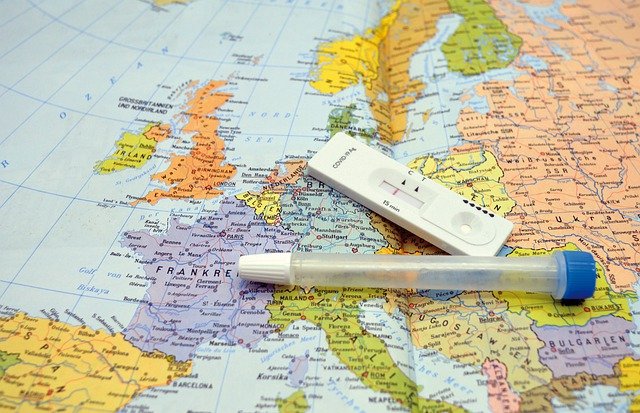 (Image by Pixabay)
Staying Negative
Before boarding the plane, presenting a negative COVID test is a must. Keep in mind that its validity is only 72 hours. Additionally, you need to fill out a mandatory Health Declaration Form with personal and flight information, details of your movement in the past 14 days, and the exact address of the facility you will quarantine in Taiwan. The system generates a confirmation list that you present at the airport. You will find the online logging into the Ministry of Health and Welfare, in the section for Health Declaration and Home Quarantine Notice of the Quarantine System for Entry.
Filling in the flight- and seat number can be tricky if you transfer in a third country. We called the call center, so you don't have to. In such a case, you should fill in the information regarding your final flight landing in Taiwan.
Landing and Check Points
After landing, there are 4 checkpoints to go through. Thanks to many smiling staff members with fluent English, the whole process runs smoothly. First, you receive a text message with a PDF of your information and a bar code. If you don't have a Taiwanese SIM card, you'll queue to get one. At the second checkpoint, the assistant helps you download the PDF file, scan the bar code, and tell you the end date of your quarantine. At the third checkpoint, you get your temperature measured. Then you reach immigration, present a negative COVID test, and voilà welcome to Taiwan! The positive thing is that you won't get too nervous not immediately spotting your luggage around the carousel. After passing through all of these checkpoints, it will be ready for you to pick it up and go. At the entrance hall, a crew will greet you with a disinfecting "welcoming ritual." Generously spraying you and your suitcases with alcohol disinfectant.
Getting Your Drive
It's important to note that the quarantine hotels don't offer airport pickup or a drop off service. The quarantined persons also aren't allowed to take public transportation. So, currently, there is only one way to leave the airport- by taking specialized transport. All it takes is registering your destination address, paying the fee, and enjoying the drive! You can choose from a taxi, a rental car (with a driver), or a bus. There is one small perk to it. The driver will take you anywhere you want, even down south to Pingtung. You can find more information here.

Quarantining in Taiwan
There are 2 types of quarantine stays, in a specially designed hotel or at home. The 14-day hotel stay costs around NT$30,000 (CZK23,000), including meals. Currently, there are 87 hotels available in a different price range. See the full list here.
On your arrival, you will also receive the Welcome to Taiwan box. A thoughtful way to stock on bleach, tissues, soap, trash bags, masks, and some instant soups. After arriving at the quarantine facility of your choice, a police officer from the local Civil Affairs Office gives you a call, becoming your contact person for the next 2 weeks. You will also befriend the police officer on LINE (similar to WhatsApp) to report your temperature at least twice a day.
A few tips, don't forget to keep your phone charged, as you must have it switched on the entire time. Your location is monitored for the first 3 weeks after arrival via the SIM card. If possible, we recommend adding the hotel on your LINE for quick and convenient communication about your food choices, orders from restaurants, or parcels.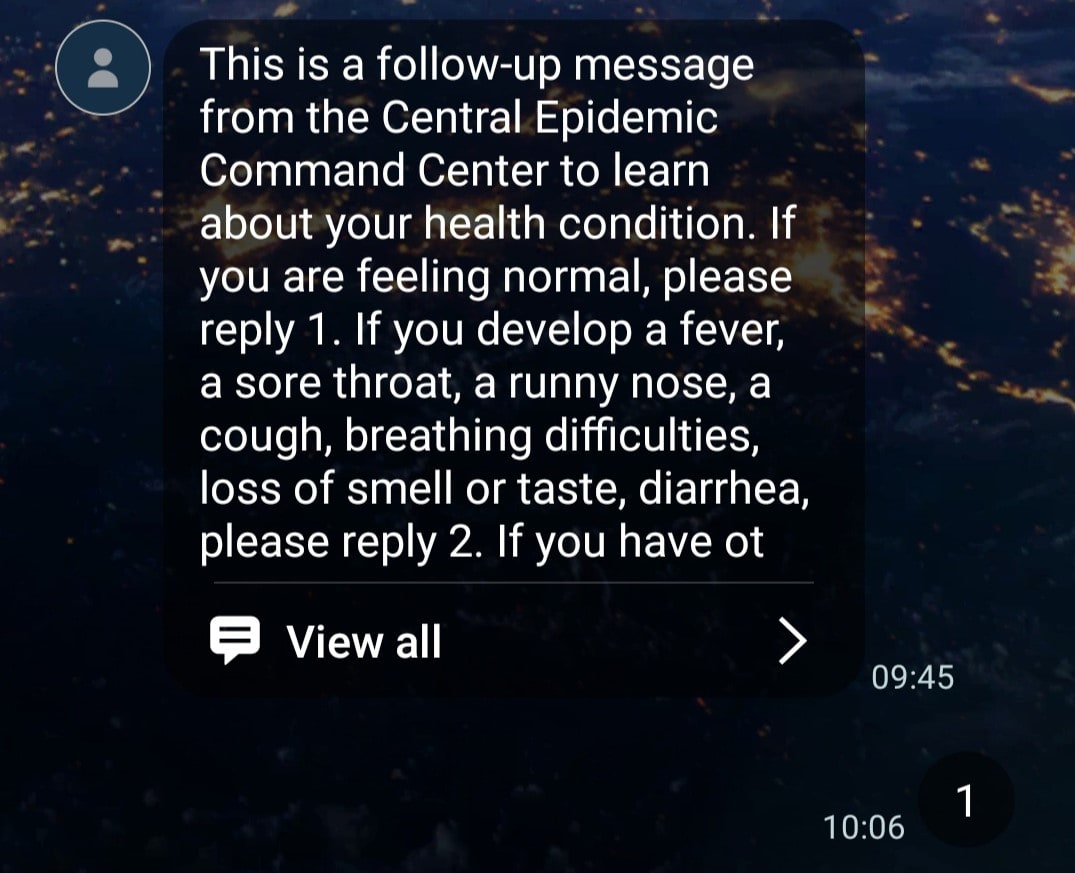 (Photo: Czech - Taiwanese Business Chamber)
Daily Check-ups
There are two mandatory check-ups you need to engage in every day. Every morning at 10:00 AM, prepare to answer the following text message from the Epidemiology Center: "If you are feeling no symptoms – press 1 If you..." These are automated messages with different options delivered every 5 minutes until you choose the one corresponding with how you are feeling. In case you don't reply, the Center will give you a call. Try not to miss that call, as they send an officer to double-check on you if there is no answer. Around 11:30 AM, expect a phone call from a local police officer who checks the daily situation.
All About the Food
The menu and food choices vary with each facility. Some hotels provide a setup of a weekly menu with limited options you can choose. Most of the hotels serve food three times a day on a little table near your door. After the hotel staff places your food onto the table, rings the bell, and leaves. Then you can open the door and enjoy your meal. Close attention is paid to ensuring the high hygienic standards, as the hotel staff delivering your food or parcels wears protective gear. Similarly, the meals are served in fully closed boxes.
If you want to explore more food options, you can order from a local restaurant. Although the process can get a bit lengthy. You will have to wait until it's delivered to the hotel, disinfected, and brought to your doors. Maybe it's worth asking the restaurant for extra heat for your food.
Room Keeping
According to the regulations launched in February, housekeepers can't enter the rooms of quarantined individuals during their entire stay. That means no cleaning or laundry service. But when you enter your room, you will find enough necessities for the next 14 days. The hotels make sure to prepare enough towels, bedsheets, pillowcases as well as trash bags and cleaning products. Most likely, the room will be equipped with a dish sponge, dishwashing liquid, and laundry detergent. After your quarantine is over, you can enjoy moving around freely. The police will discourage you from participating in public events or meeting your friends for the next following week, but such activities aren't forbidden or illegal. Time to slowly roll out all the business meetings and dinners!  
Quarantine Rules in Taiwan are No Joke
Taiwan is known for implementing strict measures and hefty fees. Have you heard of the NT$ 1 million night out? Back in March, a man had a pricey night out after splurging NT$ 1 million (CZK760,000) in fines for skipping quarantine to go clubbing. Refusing or obstructing the quarantine measures can add up to a fine of NT$ 100,000 – NT$ 1 million (76,000 – 760,000 CZK). Similarly, not wearing a mask can cost up to NT$15,000.[2](CZK7,600). Providing false personal information on the Health Declaration Form or a COVID-19 test result may lead to a fine of between NT$10,000 to NT$150,000 (7CZK,600–114,000), even imposing criminal liability of the Offenses of Forging Instruments and Seals onto the violator. Quarantine measures in Taiwan are no joke!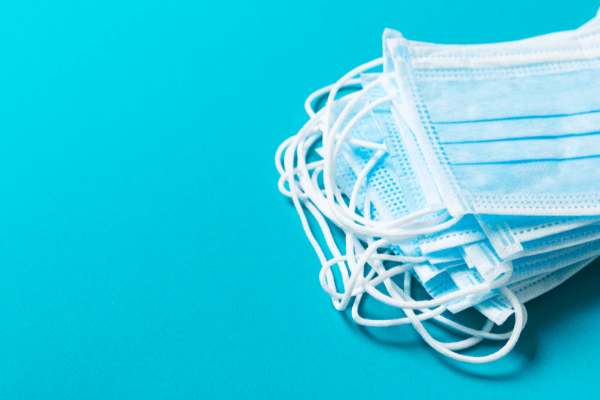 (Photo: Canva)
Canceling the Second Wave before it Hits
Despite Taiwan's achievements in combating COVID-19, the officials stay alerted with the rise of imported cases in recent weeks. The Central Epidemic Command Center (CECC) launches the Fall-Winter COVID-19 Prevention Program on December 1. Are there any new regulations that will concern you as well? By wearing a face mask in 8 types of the following facilities. Healthcare facilities, transportation systems, sports-, exhibition-, entertainment-, and business venues or places of consumption.
Conclusion
We presented you with a short overview of what your trip and quarantine might look like if you decide to undergo a similar adventure soon. In case you have any further questions, don't hesitate to contact us on social media or , and our colleague will answer all your questions.