Networking and Expert Guidance Combined
Struggling to identify the right business opportunities? Let us step in with our expertise and experience.
Event Management
Webinars, online & offline trade shows, conferences, B2B matchmaking & networking sessions, or closed-door high-level meetings. We will manage any type of event, from putting together a thought-provoking agenda to securing speakers from among the leading experts in any industry.
Business Partner Search
Are you struggling to find a new business partner? Just tell us your preferences and we will come back to you with a list of trusted companies in any industry, schedule meetings, and guide you through the whole process in the Czech market.
TRADE SHOWS/FIELD VISITS
Scouting a location for your future business? Expanding your networks, and finding new opportunities at trade shows? We are here to design the optimal tailor-made experience for you. Contact us, we do not shy away from challenges.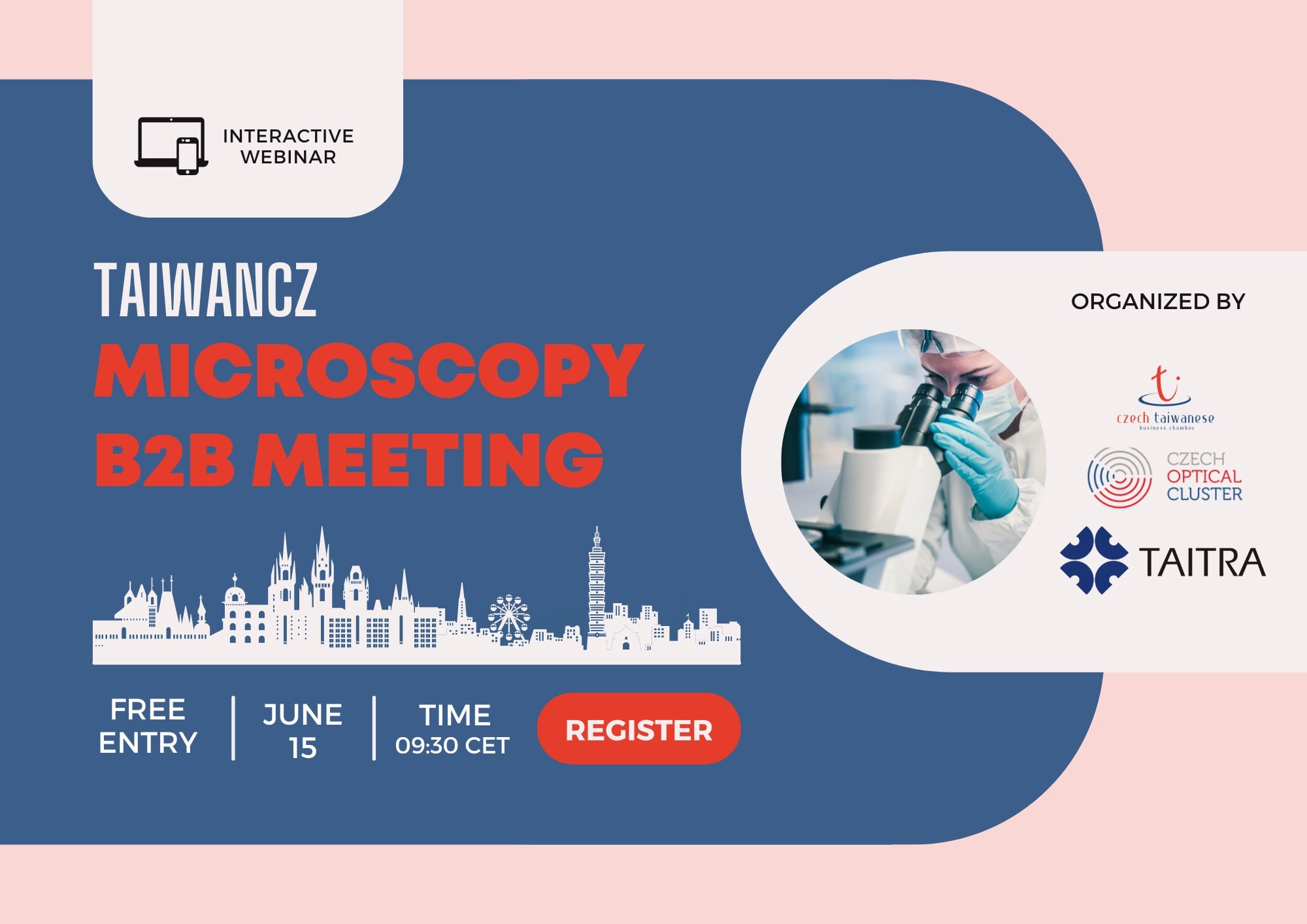 A TAILOR-MADE WEBINAR WITH A B2B MATCHMAKING SESSION
The TaiwanCZ Microscopy B2B Meeting was a custom-made event that gathered the leading figures of the Czech and Taiwanese microscopy scenes. This virtual event created a unique opportunity to exchange know-how, find potential business partners and discuss mutual technical requirements or offers.
The first ever Czech-Taiwanese virtual trade show

Czech-Taiwanese Business Days (CTBD) focused on bringing enterprises from Smart Healthcare, Manufacturing, Green Tech, ICT, Tourism, and Services together. Besides B2B meetings and networking, the 270 attendees joined interactive webinars to catch up on the latest trends in the business, investment, and start-up fields.
A FIELD VISIT FOR THE TAIWANESE DELEGATION IN OLOMOUC
Olomouc governor, Josef Suchánek, met with the Taiwanese delegation led by Liang-Ruey Ke and Pavel Diviš in May 2021. The meetings focused on discussing future areas for cooperation. The delegation also visited Meopta, a world-class specialist in optical, optomechanical, and optoelectronic products in the Czech Republic.
AN EXPERT INDUSTRY CONFERENCE IN THE CZECH SENATE

The Czech Taiwanese Business Chamber organized a conference where high-level business leaders and senior experts from all around the world gathered to discuss the pressing issue of the diversification of supply chains in the post-COVID world. The forum was held under the auspices of the President of the Czech Senate, Miloš Vystrčil.
Tap into Opportunities that will Help You Grow
Fair Prices, Delivering Results.
Let us know your preferences, and we'll come back to you with a reasonably-priced offer with your best interests in mind.