"Češi jsou naši přátelé. Myslíme na vás.
The Czech people are our friends. We get your back. "
Angel Cheng
Organizátorka a CEO nadace Xin Young
The Organizer & Xin Young Foundation CEO

Současná situace COVID-19 v České republice není ani zdaleka ideální. Česká republika měla v polovině února v přepočtu nejvyšší míru nakažení virem COVID-19 na obyvatele a nejvyšší míru úmrtí na světě. Přestože došlo k zavedení velmi přísného lockdownu, zůstává situace nadále problematická. V České republice byl v únoru 2021 zaznamenán nejvyšší počet pacientů léčených v nemocnicích od samotného začátku pandemie. V současnosti se v nemocnicích léčí více než 8 400 pacientů na COVID-19, z toho 1 700 z nich jsou na jednotkách intenzivní péče. Rychlé šíření viru COVID-19 dostává české nemocnice na pokraj kolapsu.
The current COVID situation in the Czech Republic has been far from ideal. The Czech Republic had the highest per-capita coronavirus infection rate and highest death rate in the world in mid-February. Despite imposing a very strict lockdown, the reality remains problematic as the Czech Republic has been experiencing the highest number of patients treated in hospitals since the very start of the pandemic in March 2020. Currently, more than 8,400 patients are being treated in hospitals for COVID-19, including 1,700 in ICUs. The rapid spread of COVID-19 cases has been pushing Czech hospitals to the verge of collapse.
V nejtemnějších dobách, přesto, že jsou vzdáleni od nás tisíce kilometrů, naši dobrosrdeční taiwanští přátelé chtějí vyjádřit svou podporu českým zdravotníkům v první linii. Angel Cheng, organizátorce iniciativy Dopis českým zdravotníkům z Taiwanu #TaiwanCzechLetter, se podařilo vybudovat "zeď lásky," přátelskou iniciativu zaměřenou na projevení soucitu a prohloubení přátelství mezi Taiwanci a Čechy.
In the darkest times, despite being thousands of miles away, our kind-hearted Taiwanese friends hope to send their support to the Czech frontline healthcare professionals. Angel Cheng, the Organizer of The Letter to the Czech Health Professionals from Taiwan #TaiwanCzechLetter, succeeded in building the "Wall of Love," a warm initiative intended to spread compassion and deepen the friendship of Taiwanese and Czech people.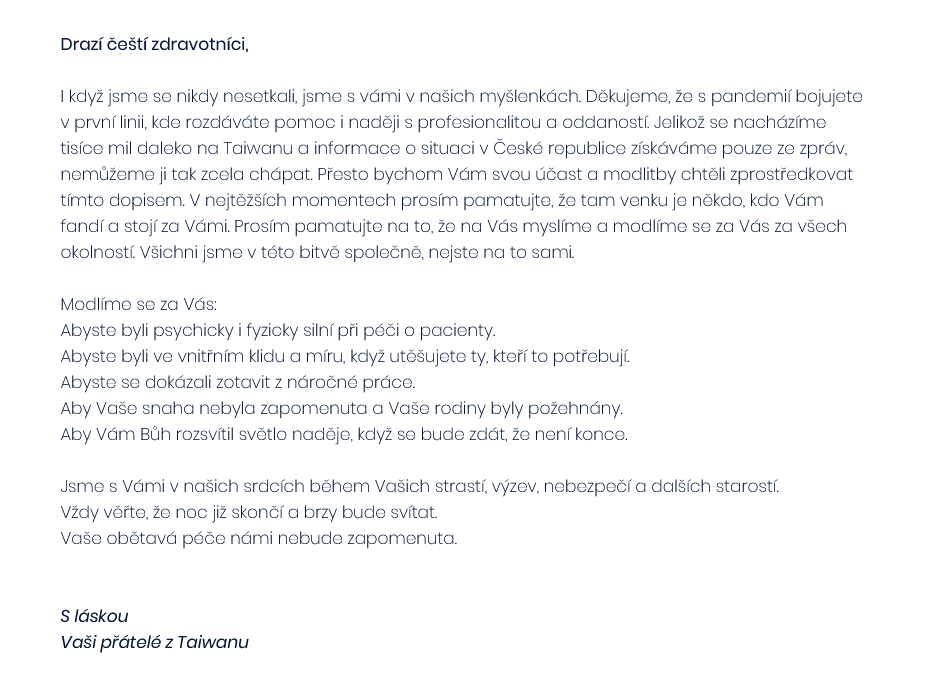 (Source: taiwanczechletter.org)
Taiwanci se mohou zapojit do iniciativy podepsáním online otevřeného dopisu, zanecháním komentářů vyjadřujících podporu českému zdravotnickému personálu nebo zasláním ručně psaných pohlednic přímo do Čech.
Taiwanese can join this initiative by signing an Online Open Letter, leaving supportive comments for the Czech Health Professionals, or sending hand-written postcards directly to the Czech Republic.
Kdo je Angel Cheng? | Who is Angel Cheng?

Generální ředitelka nadace Xin Young, dobrovolnice v mnoha zemích a členka poradního výboru pro mládež na taiwanském ministerstvu školství. Tato mladá, talentovaná a obětavá dáma je členka propagačního výboru taiwanského zámořského mírového sboru.
The CEO of Xin Young Foundation, a devoted Youth Advisory Committee member of Taiwan National Ministry of Education, this young, talented, and highly committed professional is a passionate advocate of Taiwan Youth Overseas Peace Corps and cross-culture volunteering.
Iniciativa obsahovala přes 265 pohlednic, včetně ručně psaného vzkazu od Audrey Tang 唐鳳. Pohlednice byly vystaveny ve dvou nemocnicích v Hradci Králové a v Praze.
The initiative has received over 265 postcards, including a thoughtful, handwritten note by the Taiwanese Digital Minister, Audrey Tang 唐鳳. The postcards were exhibited at two hospitals in Hradec Kralove and Prague.
Pohledy z Taiwanu byly vystaveny na jednodenní výstavě ve Fakultní Nemocnici Královské Vinohrady. Na nádvoří nemocnice bylo vystaveno více než 50 pohlednic z různých částí Taiwanu, včetně povzbuzujícího pohledu od Audrey Tang 唐鳳. Přestože jsou naši taiwanští přátelé na míle daleko, tak vřelé zprávy od nich české zdravotníky velmi potěšily a zahřály u srdce. Zbytek pohlednic byl převezen do nemocnice v Hradci Králové, aby i tam rozveselil místní zdravotnický personál.
The postcards from Taiwan were displayed at the one-day-only outdoor postcards exhibition in the Fakultní Nemocnice Královské Vinohrady. More than 50 postcards from different parts of Taiwan, including the thoughtful message from Audrey Tang 唐鳳, were displayed on the small hospital's patio. The medical staff enjoyed the heart-warming messages from our Taiwanese friends, despite being miles apart. The rest of the postcards were transported to the Hospital in Hradec Kralove to cheer up the local medical staff.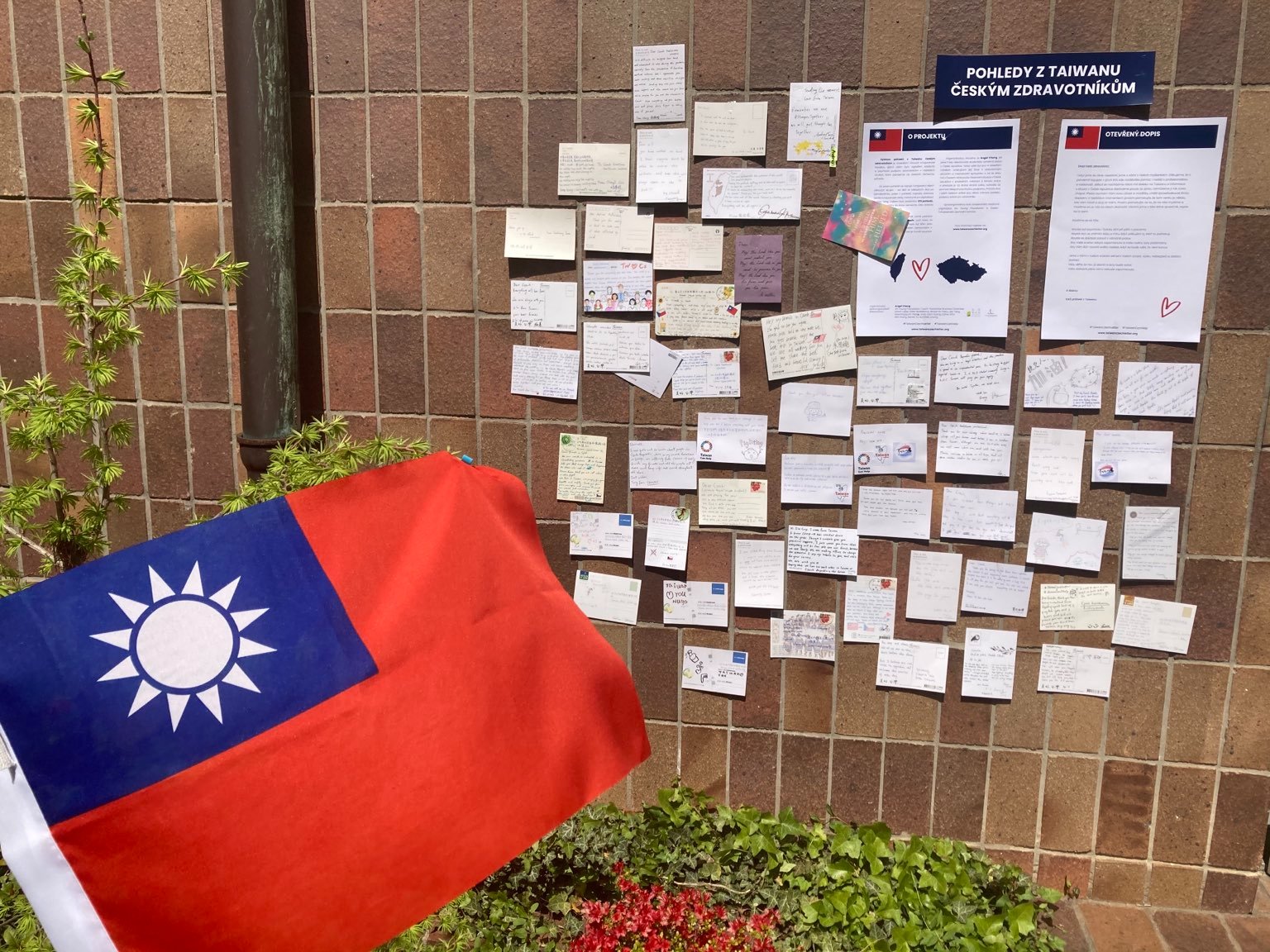 (source: Czech-Taiwanese Business Chamber)